Over ATAMINANAYU
Over ATAMINANAYU conveying the town of bath atmosphere in now
ATAMI which is one of the best hot-spring villages in Japan has many numbers of the source, and the total gush quantity boasts of 17,085 liters a minute (February, 2011). It was Hot Spring of blowout called "ATAMINANAYU" that occupied position that was important to history of this Atami Onsen and was known as excellent hot water of ATAMI and still remained in the generation in the Taisho era. ("ATAMI topographical record sequel to")
We let by performing redevelopment of "ATAMINANAYU" which built history of Hot Spring of Motoichi as part of business of the 60th anniversary of the municipal organization in 1997, steam stand up and planned reproduction of atmospheric Atami Onsen at the time.
As seven hot water lies scattered in the Ginza, Atami neighborhood that is close to pine of OMIYA, visiting seven sources, fall in story and history concerning "ATAMINANAYU", and please enjoy atmosphere of town of hot water.
※Seven hot water does not leave trace of the natural gush era in monument which restored spa facility at the time. (not bathing facility.)
OYU intermittent spring (we boil buttocks which do not go)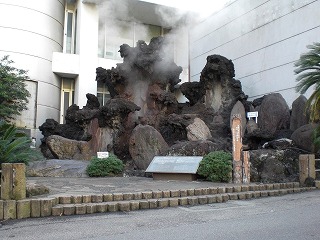 "OYU" in the left side this side of Shinto shrine in front of mountain side, the bath of Ginza Street of ATAMI was counted in one of the's three biggest intermittent springs (elsewhere Old Faithful in the United States Yellowstone park, Iceland guretogaiza) of the world. Spout of OYU gushes hot water and steam by intense force in turn, and it is said that the ground seemed to shake. It was own fountain blowing up a large quantity of boiling water with constant rhythm regularly, but, after the Great Kanto Earthquake (1923), spout declines and is maintained as intermittent spring spouting out artificially in 1962 again and we save as cultural assets of city and, until the early period of Taisho era, continue up to the present day.
The location: 3, Kamijukucho, Atami-shi (between Shinto shrine in front of Atami New Fujiya Hotel annex and the bath)
Inquiry: Atami-shi lifelong learning division (telephone 0557-86-6573)
KAWARANOYU (kawarayu)
This neighborhood was called Higashihama in those days, and, without way, Hot Spring was bathing ground of villager who sprang out abundantly consistently in riverbank which idled around of stone. It was this "KAWARANOYU" that the source of OYU was used for bather mainly, and villager of Atami-mura and people of neighboring villages could take a bath with hot water which only limited family could use other sources for freely. We establish bathroom for villager, and 1666 (Kanbun 6) shodenharajoshuineyobinoshu is told even if we write the roof with tile-roofing and called ourselves "tile hot water". This bath has an effect for poor circulation and neuralgia or rheumatism, and it is said that a lot of salt had muddy transparent hot water white when people enter.
The location: 12, Ginzacho, Atami-shi (it is along the Route 135 up, and the ATAMI chamber of commerce is near)
Hot water (sajirounoyu, menoyu) of SAJIROUNOYU, eyes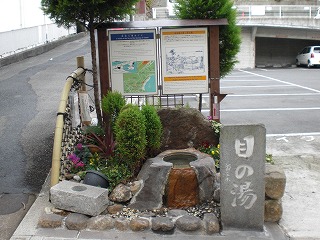 Because former, residence of person called *chiro was in the gate of Ioji that was in old Nakacho, the present GINZACHO, we were said with "SAJIROUNOYU". In addition, there is this source in residence of person of Uesugi assistant seven in the Meiji era, of nochi "new corner inn" as became owned, was said to be "hot water of corner newly". Because there was little salt, and this bath was near the truth bath, it was also known as "hot water of eyes" by reason, another name when it well worked for burn and eye disease.
The location: 10, Ginzacho, Atami-shi (Ginza Street, the Suruga Bank side)
SEIZAEMONNOYU (seizaemonnoyu)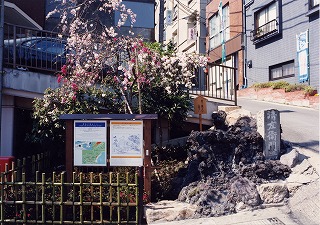 As person called seihidarieimon of farmer rides horse in the old days and we fall into this hotwater reservoir and were burnt to death, it is said that we were accompanied by the name. It always sprang out and, until the Meiji era, might not die out in the night and day. If people "paint with seihidarieimon" and call in to loud voice, it springs out very much, and it is said that it sprang out small if we call in small voice. (ATAMI topographical record sequel to) become facility achieving steam, and taste of Hot Spring is felt now.
The location: 1, Higashikaigancho, Atami-shi (in front of Furuya inn entrance)
FURONOYU, MIZUNOYU (furonoyu, mizunoyu)
"FURONOYU" sprang out of garden of old Saka-cho Takasagoya (Enzo Oki). It is the west of today's Fukushima-ya inn. It was said that this bath was good for injury and, also, blowoff of the steam was prosperous and steamed steamed bun and we warmed up liquor and sold. Hot Spring without salt sprang out to approximately 1.5 meters east of "FURONOYU", too. As temperature was low, it is said that it is like thing warming up water that light nothing taste is the way goes, and it is written in "history of ATAMI magazine" that reason is accompanied by "MIZUNOYU" and the name.
In the Edo era, we assumed thing except "hot water of eyes" seven hot water, but it became for the Meiji period and seems to have come to call thing except "MIZUNOYU" with seven hot water.
The location: 1, Sakimicho, Atami-shi (in front of Fukushima-ya inn)
KOSAWANOYU, HEIZAEMONNOYU (kosawanoyu, heizaemonnoyu)
We called Sawaguchi Yazaemon of the location, Monjiro Fujii, hot water of garden of Yonekura three Court Security Office with "HEIZAEMONNOYU" near municipal management Hot Spring Nonaka power room that entered, but called old Ozawacho, in front of JAPAN TOBACCO in Atami Onsen Street with "KOSAWANOYU" as there were natives in Ozawacho. If people call in loud voice, like "SEIZAEMONNOYU", it springs out very much, and it is said that it sprang out small if we call in low voice.
We can make boiled egg with "KOSAWANOYU" using high temperature steam. On the use, you have you bring raw egg, or please buy in nearby shop.
As outlet of steam becomes high temperature very much, please be careful.
Steam decreases by weather, and please note that you may not cook boiled egg.
The location: 14, Ginzacho, Atami-shi
NONAKANOYU (nonakanoyu)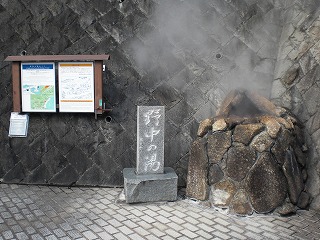 We say mountain in north approximately 1.2 kilos with Nonaka mountain from the center of ATAMI, Ginza Street intersection corner, and hot water spouts hubble-bubble in mud with it is this foot, Nonaka (the current Fujimori Inari whole area) area whole area, and it is said that it has begun to spring out when we hit with stick. In addition, soil of this neighborhood was like tan (red soil) and had materials which applied wall. As place where this "NONAKANOYU" springs out was shallow, until the Edo era, it does not seem to have been used for bathing too much, and therefore it is said that we did not establish hot water Masu to collect hot water in.
The location: 7, Sakimicho, Atami-shi (central bank life care sakikennyukuchifukin)
Related information
Inquiry
about this page
Sightseeing and Construction Department Parks and Greenery Section maintenance room
〒413-8550 1-1, Chuocho, Atami-shi
Telephone: 0557-86-6218 fax: 0557-86-6244
Inquiry, please use exclusive form.